Orchard Shopping Centre has nominated Guide Dogs as their charity partner for 2021/22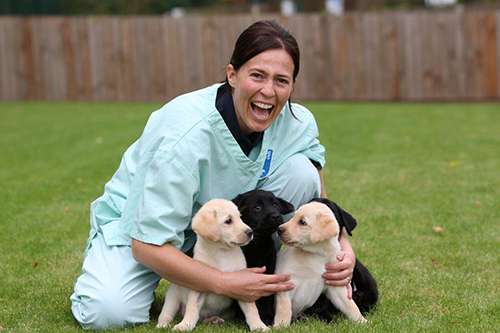 Orchard Shopping Centre has nominated Guide Dogs as their 'Charity Partner for 2021/22'. We are hoping to raise £5,000 to 'name a puppy' and support a trainee guide dog through its first incredible year.
How we are undertaking the campaign
Local representatives from Guide Dogs will be visiting Orchard Shopping Centre at various dates, talking to the public and getting involved in our fundraising initiatives. We will also be raising money through taking part in challenges and sponsored events.
Amount Raised so far:
£2276.04
You can donate to this worthy cause via our JustGiving page or using the in-centre collection boxes. Thank you for your support.
The Charity

Guide Dogs are a charity who help people with sight loss to live the life they choose.
It's a sobering fact that almost 2 million people in the UK are living with sight loss. By 2050, there could be nearly 4 million.
The charity, formed in 1931, offers services tailored to the needs of their customers. This includes information and advice, campaigning and influencing, plus the wonderful dogs who offer essential canine support.
Guide Dogs is now the world's largest breeder and trainer of working dogs. Thanks to the dedication of staff and volunteers, plus vital donations/sponsorship, Guide Dogs has helped over 29,000 people to achieve life-changing independence.
In 2018*, it cost around £63,000 to breed, train and support a guide dog from birth to retirement. A guide dog owner could have as many as eight guide dogs during their lifetime, which takes the cost to £500,000.
Like many charities, Guide Dogs relies on donations and support. This is a national charity, but one with a strong local presence which appealed to the management at Orchard Shopping Centre. We've partnered with the Somerset branch to work together to try and raise sufficient funds to 'name a puppy'. If successful, we will be happy to know that we are helping somebody local to gain independence and purpose…plus we'll hopefully receive regular Pupdates!
A local 'story'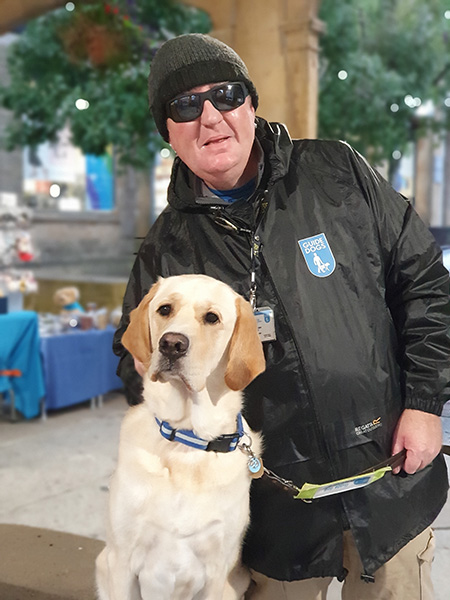 Alex was 14 when he first noticed problems with his eyes and was diagnosed with Chronic External Ophthalmoplegia, a painful condition that causes muscle weakness and an involuntary closure of the eyelids.
He developed coping strategies to enable him to get through school and worked successfully as a plumber for 24 years. In 2009, aged 39, he could take no more of the pain and after numerous hospital visits and operations he was eventually registered severely sight impaired/blind and his life had to change completely.
'I spent my evenings after work collapsed on the sofa in tears from the pain and the exhaustion of having to try and cope with the little remaining vision that I had. I had to give up driving, could no longer work, had to sell the cottage I loved and move 25 miles away from friends and family. I was in a very dark place and could see no way out.
It was in 2011 that I applied for a Guide Dog and in 2013 was matched with my first dog Marky – a large male Labrador/Retriever cross who was almost white in colour. He was gentle, quiet, laid back and so affectionate and began to give me the confidence to try and get my life back on track.
With him by my side, I was able to go anywhere and try new things – one of which was a ceramics course at the local college. I began making items for my friends and family as gifts and word quickly spread of my new talent. I am now able to make mugs, plates, ornaments, and decorations that I sell to raise money for Guide Dogs. Pottery had now become a great focus in my life, and it give me great joy to know that by selling my creations, I am able to help others on their journey.
Sadly in 2019 Marky was diagnosed with an inoperable tumour and after several months, we had to say Goodbye. This was an incredibly difficult period, but fortunately I was matched with Homer – a bouncy blonde Golden Retriever/Labrador who is a wonderful boy and so different in character to Marky. I don't know how I would have coped with the loss of Marky had I not had Homer by my side. He is full of character and fun and continues to keep me safe and gives me the confidence and a purpose to go out every day.
Guide Dogs mean so much to me – my dogs helped me turn the corner in my life from a place of darkness to a light at the end of the tunnel.'
Future events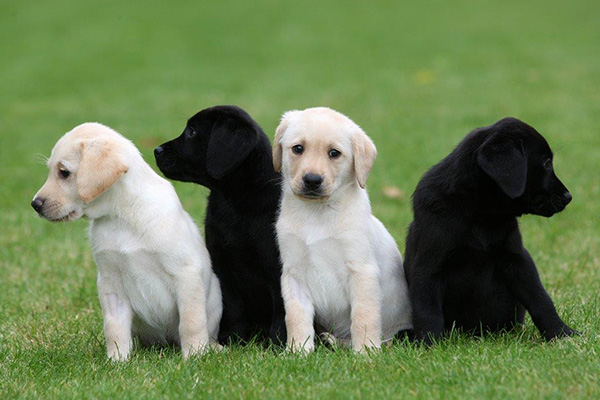 Representatives (human and canine!) will be in-centre on the following dates in 2022, from 11am to 3pm EXCEPT 11th June, from 9am to 5pm:
26th February
9th April
11th June
20th August
8th October
They look forward to meeting you.